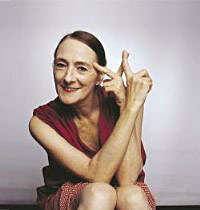 The Emet Prize is awarded to Rina Schenfeld for being a dancer, teacher and productive and innovative choreographer and a curious researcher. She has contributed greatly to Israeli dance through her unique character as a dancer and created a new standard for excellence, diligence and innovation.
Rina Schenfeld was born in Tel Aviv in 1938. She is a dancer, choreographer and director of a dance company and a dance school. Schenfeld received her formal dance training in Israel under Maya Arbatova and Rina Gluck and then in New York at the Martha Graham School of Contemporary Dance, the Julliard School of Music and the Metropolitan Opera.
Upon her return to Israel Schenfeld helped found the Batsheva Dance Company and was its choreographer and first dancer, appearing in the lead roles in the works of some of the worlds great choreographers, including works, about the heroines of Greek mythology by Martha Graham, gaining her great acclaim.
In 1979 Schenfeld left the Batsheva Dance Company and founded the Rina Schenfeld Dance Theater, for which she created some 60 dances for both solo and troupe performances, some of which were performed on the world's most important stages. In recent years, her work has aroused great interest in the Far East, and she has been invited for tours and to international festivals in Japan, India and South Korea. Her name precedes her as one of the veteran and most important representatives of Israeli dance in the world.
In 1998, Schenfeld published her first book of poetry, "You'll Dance, I'll Tumble." She has been crowned with many titles, including "Queen of Israeli Dance," "The First Lady," and "The Urim and Tummim" of Israeli dance. The New York Times called her "one of the important dancers of our generation."
Schenfeld's artistic work in Israel and abroad earned her prestigious awards, including three David's Harp awards, the Golden Star Medal in 1971, the 1994 Na'amat prize for her life's work in the field of dance and the Ministry of Education and Culture's Creativity Prize for 1997, the 2000 Israel Festival Jerusalem prize and the Landau Prize for Stage Arts in 2001.