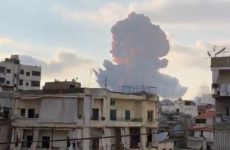 The distance between Beirut and Haifa is just 200 miles of the Mediterranean coastline. Although the horrific explosion was not heard in Israel, it has sent shockwaves throughout the Jewish state. Like Beirut, there are also large quantities of dangerous chemical and explosive materials stored in Haifa. For years now, Haifa's civic officials and residents have been warning of the clear and present danger. 
In fact, during the Second Lebanon War with Hezbollah in 2006, the Iranian proxy tried to rocket Haifa. In response, the Israeli government has gradually transferred dangerous materials to the more sparsely populated Negev in the south. However, sizeable stores still remain in the Haifa area. In fact, Hezbollah leader, Sheikh Hassan Nassrallah, once boasted in a telecast, "If we can launch our missiles into Haifa, we could create the effect of an atomic bomb!" 
Fast forward to the present day – after Beirut's devastation, apparently caused by the negligent storing of some 2,700 tons of ammonium nitrate (used for producing explosives and fertilizer), there is indeed a serious threat to Haifa, despite the strict supervision. It's simply not done – endangering civilians by storing explosive material in their midst. (As for the fertilizer aspect, Lebanon is not even a producer of its own wheat – Lebanon imports nearly all of it, most of which has been made unusable by the explosion.)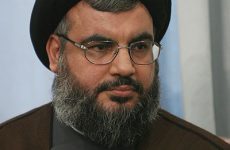 The Lebanese public is enraged, and rightly so. Some of the responsible officials have been arrested for questioning and may likely be charged with negligence. The suspicion is that they were bribed by Hezbollah. Lebanon, as a state, has no beef with Israel. Bear in mind that the country is a conglomeration of Christians, Druze, and Sunni/Shiite Muslims that is now militarily dominated by Hezbollah. In effect, the Iranian proxy rules the Lebanese government, and its military force is more powerful even than the Lebanese army. It may be that blame for the Beirut disaster will eventually come home to roost with Hezbollah. Sheikh Nassrallah takes his orders from Tehran and is now engaged in mounting attacks across the Lebanese-Israeli border. 
Israeli Reaction …
Prime Minister Bibi Netanyahu immediately declared that Israel had nothing to do with the Beirut catastrophe. On the contrary, the Jewish state was ready to urgently supply medical aid and even transfer seriously wounded Lebanese for medical care in the Jewish state. Lebanese authorities rejected this out of hand.
With the dust beginning to settle, the first foreign leader to visit Lebanon was President Emanuel Macron, leader of France, which has historical ties with the crippled country. Angry Lebanese citizens in the streets demanded that responsible government officials be brought to justice. In offering humanitarian aid, Macron warned the Lebanese government to clean up its act, or the country would continue to sink. But there's one key question – why was such a huge quantity of potentially explosive material stored inside the city?
The Al Jazeera news agency quoted a retired Russian captain who sailed his ship into Beirut with almost 3 thousand tons of ammonium nitrate. He pointed the finger at the Lebanese administration that must have been very well aware of the danger posed by his cargo. Captain Boris Porkoshev declared,
"It's the government of Lebanon that brought about this situation." 
Moreover, Walid Jumblatt, Lebanon's Druze leader, demanded an international investigation, saying, "I have no faith in the Lebanese government's inquiry!" In Washington, President Donald Trump issued another of his original responses, saying, "How can you say 'accident' if somebody left some terrible explosive-type devices and things around. Perhaps it was that. Perhaps it was an attack." However, his Defence Secretary, Mark Esper, sort of contradicted his boss, saying, "It was probably an accident, as reported."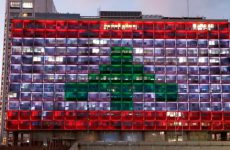 Bottom Line …
Currently, the death total has reached 135 and continues to mount. Dozens are still trapped under the rubble, while thousands more are injured. An estimated 300,000 people have been left homeless. 
One final note, after Beirut rejected Israel's offer of assistance, Tel Aviv Mayor Ron Huldai lit up City Hall with the colors of the Lebanese flag and the national emblem in the center – "The Cedar of Lebanon." 
Israel Advances to Test Stage for Corona Vaccine …
Several dozen pharmaceutical and research teams are now engaged 24/7, striving around the clock to develop a COVID-19 vaccine. Among them is Israel's Nes Tziona Biological Research Institute. Its director, Prof. Shmuel Shapira, announced,
"We started out six months ago with a tailwind from Israel's Defense Ministry. I am proud to say that we have delivered results. We now have an excellent vaccine. In October, we will begin the required regulatory process of testing for side effects. But we do have an excellent vaccine in hand!"
This first stage will involve 100 people, and, if it has no severe side effects, it will proceed to the further testing of 1,000 human beings. This second stage will be concluded by the end of the year. Then it will enter the make-or-break stage that involves testing on 30,000 people according to international regulations. This is due to be completed by next March. The final two stages will be conducted in India, where there is a much bigger and diverse population for verification.