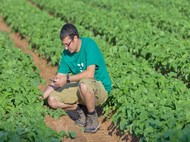 Farmers in the US, Australia, Africa, Brazil and Russia are using the new Taranis system to better plan for preventing weather damage to crops.
In less than 10 years, the world will need 30 percent more food to feed some 8 billion people. Israeli agricultural technologies help farmers everywhere in meeting that challenge by increasing yield, decreasing use of water and pesticides, bolstering crops' nutritional profile and disease resistance, and lowering costs.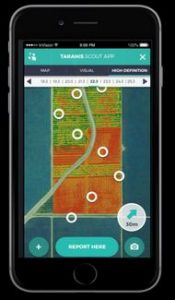 But no technology is smart enough to control the weather. According to IBM Research, weather is to blame for 90 percent of the world's multibillion-dollar crop losses, and an estimated one-quarter of those losses from disease and infestation could be prevented through more accurate predictive models.
Maybe that's why the Israeli startup Taranis was accepted into two prestigious Israeli accelerators — Microsoft Ventures and 8200 EISP — at the same time.
The two-year-old company, based in Tel Aviv, just completed a $2 million funding round supporting its predictive product. The system combines site-specific big-data meteorological analytics and real-time observations input by the farmer, via a mobile app, to determine optimum preventive measures against weather-related disease and pest infestation.
Israel's pear growers served as the test group, proving Taranis 97% accurate. This model is now being adapted for pear and apple farmers in the states of Washington and Michigan, and another model for almond farmers in Australia. The young company also has customers in southern Russia, Africa and Brazil.
"Brazil is our main target market because it's one of the biggest agricultural markets after the US, China and India," says COO and cofounder Ayal Karmi. "We think it's the right time to introduce them to our technology."
 This article has been republished with permission by www.israel21c.org. Click here to continue reading.