The electro-optic system built into LifeBEAM headgear and inspired by technology used by the Israel Airforce, will power Samsung's Simband platform for smart wearables.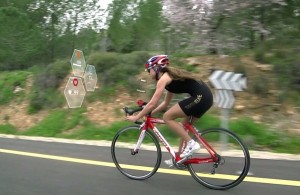 Two former Israel Air Force pilots, both passionate athletes, devised a bio-sensing technology embedded in headgear to measure vital signs. Now, the smart sensors that power their LifeBEAM line of sport caps, visors and helmets are going into Samsung's future Simband platform for wearable devices to measure heart rate, blood flow, sweat production, calories burned, skin temperature and other fitness parameters.
The idea is to provide a broad spectrum of precision monitoring without weighing down the athlete.
 Chest straps are really uncomfortable, so we've taken the technology and put it in an existing wearable," LifeBEAM marketing manager Cid Carver explains."You're already wearing a helmet when you cycle. When you're running, you already need a hat or visor.
LifeBEAM's first product, a smart bicycle helmet ($229), was funded by an Indiegogo crowdsourcing campaign and went on sale in September last year followed by the fitness caps and visors ($99).They're available from LifeBEAM's ecommerce platform and vendors all around the world.
 Links to devices you already own
The concept for LifeBEAM came from above, quite literally.
   "LifeBEAM's founders, Omri Yoffe and Zvika Orron, were Israel Air Force pilots who thought of this technology and implemented it for pilots' helmets, and then realized it can be taken from aerospace to our space," Carver tells ISRAEL21c."Our first mission was keeping jet pilots and astronauts safe as they pulled multiple G's by sensing critical vitals like heart rate, SPO2, blood flow and physical activity during flight," the founders explain on the company's website."The result: the world's smallest, most accurate and versatile bio-sensors for motion-intensive activities."
The headgear they designed relies on electro-optical technology to measure heart rate continuously. An optical sensor in the front reads the user's forehead pulse and transmits a raw signal to the processing unit in the back. The processing unit analyzes the data and sends it to the user's smartphone or other device. Other sensors in the products accomplish their job in a similar fashion.
Perhaps the most unique aspect of LifeBEAM's products is their flexible synchronicity with the user's existing devices.
    "Fitbit and Mio are different because they have limited functionality and you have to use their application," she explains. "With our product, you can use our app on your phone or you can connect with cycling computers, running watches and other mobile apps you already use. If I have a Garmin watch, for example, I can buy the LifeBEAM helmet and it interfaces beautifully. This gives athletes the freedom and choice to work with what's most comfortable for them."
This article has been republished with permission by www.ISRAEL21c.org.  Click here to continue reading.