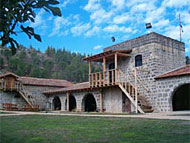 Tel Hai ("Hill of Life" in Hebrew) is the modern name of a settlement in northern Israel, the site of an early battle in the Arab-Israeli conflict, where eight Jewish guards died when hundreds of Arabs attacked the settlement.
Tel Hai was intermittently inhabited since 1905 and permanently settled as a border outpost in 1918 following the defeat of the Ottoman Empire. The area was subsequently subject to intermittent border adjustments among the British and the French. In 1919, the British relinquished the northern section of the upper Galilee containing Tel Hai, Metula, Hamrah, and Kfar Giladi to the French jurisdiction.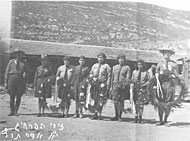 In January 1920 two Tel Hai members were killed in an Arab attack, and on the 11th of Adar, 5680 (March 1, 1920), six more died when hundreds of Arabs attacked the settlement, among them the one-armed, Russian-Jewish independence fighter Joseph Trumpeldor, the guards' young commander. The city of Kiryat Shemona, literally Town of the Eight was named after them.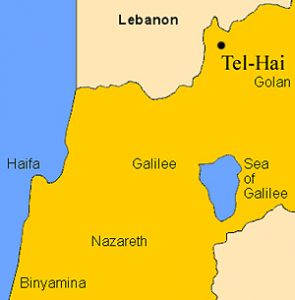 Tel Hai was abandoned, but the battles did not end for another few months, after which the settlers returned to rebuild their homes. In 1921, Tel Hai was resettled and in 1926 was absorbed into the kibbutz Kfar Giladi. Since then, Tel Hai has been a symbol of heroism. Each year, on the 11th of Adar, an official memorial ceremony is held for Trumpledor and his comrades at the cemetery in nearby Kfar Giladi, where the young fighters were buried in a common grave. A statue of a roaring lion stands in the cemetery, sculpted by Avraham Melinkov in 1926, as an expression of their strength.