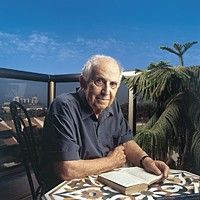 The EMET Prize is awarded to Prof. Zvi Lamm for his exceptional contribution to educational philosophy and practice in Israel. His contribution to education in Israel encompasses all levels from theory to practice, and ranges from challenges and criticism to creating conceptual and organizational infrastructure.
Professor Zvi Lamm was born in Poland in 1921, and immigrated to Israel in 1938.
During World War II he served in the British Army, and at that time was involved in an underground mission in Italy for the Hagana and the Yishuv by educating Jewish children – most of them refugees and displaced persons from central Europe. To this end Lamm established Jewish schools, where he taught and acted as principal.
After the war he studied at the David Yellin Teachers College in Jerusalem and upon concluding his studies taught at the Meir Shfeyah Youth Village and in schools in Hadera. In 1956 Lamm was invited to teach at the college where he studied, and within a few years became its director. He established a high school under the auspices of the Teachers College, which offered preparatory studies for studying at the College.
After completing his doctoral dissertation, Lamm was appointed as lecturer at the Hebrew University of Jerusalem's School of Education, later becoming a full professor. In his research, Lamm focused on social and educational ideologies, educational approaches, academic programs, and the development of an Israeli educational philosophy. He established and managed the Department for Teacher Training and the program Teachers' Teachers – a framework for guiding college teacher's teachers in their doctoral dissertations. Lamm also introduced a tutoring methodology into their teaching certificate studies.
Over the years Lamm has published books and essays in various professional publications. His most notable publications include: Conflicting Theories of instruction (1972), War and Education (1976), Didactic Decisions (1976), A Reappraisal of Zionist Youth Movements (1991), Educational Methods in Hashomer Ha'tzair (1998), Pressure and Resistance in Education (2000), and From Adam to Culture – Basic Terms in Educational Dialogue (in print).