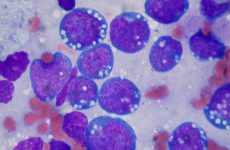 Israeli researchers have helped to develop a new treatment combination for patients with advanced or metastatic head and neck cancer (HNC). The treatment, which uses both a targeted drug and immunotherapy following a certain sequence and within a specific time frame, blocks a signaling pathway that suppresses the immune system and keeps it from fighting tumor cells.
The research was conducted by an international team of scientists led by PhD student Manu Prasad in the laboratory of Prof. Moshe Elkabets of the Faculty of Health Sciences at the Ben-Gurion University of the Negev. Their findings were just published in the Journal for ImmunoTherapy of Cancer in a study co-authored by Israeli, Chinese, French, German, and US researchers.
The researchers targeted an aggressive type of HNC which is driven by the hyperactivation of a specific signaling pathway that will not allow the immune system to kill tumor cells. This was found in more than 40 percent of HNC cases….