More than one million Jewish refugees were forced to flee Arab countries.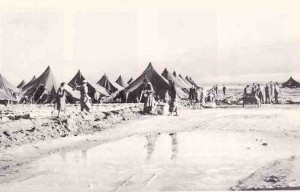 One of the thorniest issues in the upcoming Israeli-Palestinian negotiations will be the refugee question, on both sides. Palestinian leader Mahmoud Abbas and other Palestinian officials claim the 'right of return' for the Palestinian refugees and their descendants who fled Palestine after the neighboring Arab states declared war on Israel in 1948. However, it appears that a similar number of Jewish refugees also fled from Arab countries. And this, after the Arab-League drafted a law that in effect confiscated their property and considered them to be 'members of the Jewish minority state of Palestine'.
There is a wall-to-wall consensus in Israel that the Jewish state would be committing national suicide by allowing the return of Palestinian refugees, who now number in millions. Obviously, the solution would be compensation for these refugees and resettlement in their new state of Palestine, in the Arab countries, or in other foreign states.
A recent conference of a 'Justice for Jews of Arab countries' has published a detailed study on the Jewish refugee question, which Israel is expected to raise in future negotiations. This is a summary of the conference and its findings:
Fifty delegates from ten countries and five U.S cities, representing 35 Jewish communities and organizations, participated in the November 4-5, 2007, New York Summit of Justice for Jews from Arab Countries (JJAC).

In advance of the Annapolis Peace Conference, the agenda focused on how to draw attention to the plight, and flight, of the nearly one-million Jews who, since the turn of the century, have been displaced from their ancient communities in ten Arab countries. In the aftermath of Israel's creation, hundreds of thousands of Jews fled Arab countries where they had lived for centuries, a total larger than the number of Palestinian Arabs that left Israel.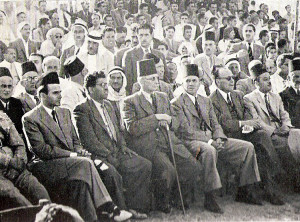 The highlight of the meeting was a legal report released by former Canadian Justice Minister and member of Parliament, Irwin Cotler, entitled, "Justice for Jewish Refugees from Arab Countries: The Case for Rights and Redress." JJAC had discovered UN documents referring to a law drafted by the Political Committee of the Arab League which recommends measures to exploit Jewish populations in Arab countries and to use them as political weapons in their struggle against the state of Israel.
In his presentation, Dr. Cotler disclosed the "pernicious and prejudicial role played by the U.N. in excluding Jewish refugees from Arab countries from the justice and peace agenda:
The time has come to return Jewish refugees from Arab countries to the Middle East narrative from which they been expunged these past 60years, he said. This is not just a case of justice delayed, but justice denied. Indeed, the displacement of 850,000 Jews from Arab countries is not just a 'Forgotten Exodus' but a 'Forced Exodus.'
Below is a photocopy of a document entitled: "Text of Law Drafted by the Political Committee of the Arab League". It was affixed to a Jan. 19, 1948 Memorandum submitted to the UN Economic and Social Council warning that "all Jews residing in the Near and Middle East face extreme and imminent danger."
The original document by the committee of the Arab League: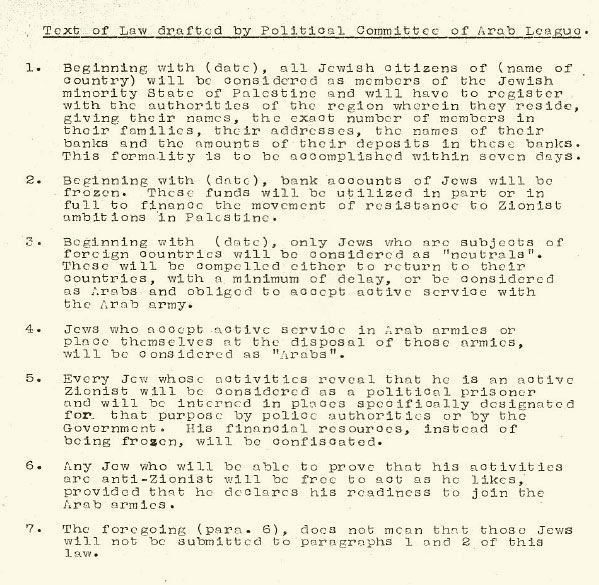 The statistics of this mass displacement Jews from Arab countries, 1948-2005:
Click here for the full report "Justice for Jewish Refugees from Arab Countries: The Case for Rights and Redress"