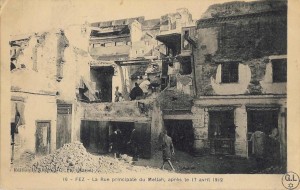 This month the Jewish world will cite the one hundredth anniversary of one of the most painful events in the history of the Jews in Muslim lands – the "Tritel" – the pogrom in Fez, Morocco that occurred between April 17 and 19, 1912.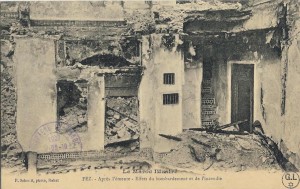 The anger of the Arabs was aroused by the agreement between the French authorities and Sultan Malai Hafiz making Morocco a French protectorate. They saw this agreement as a betrayal and turned their anger against the Jews, the traditional scapegoat for their wrath. A rioting mob invaded the Jewish quarter of Fez, ransacked and destroyed it and murdered some of its residents. This barbaric scene resembled an apocalyptic vision. As a result 12,000 inhabitants of the Mellah fled, remaining homeless in dreadful need for weeks.
Beyond the loss of life and possessions the fires the Arab rioters set burned down synagogue treasures and ancient libraries. Shocking photographs documented the riots. They were published in newspapers throughout the world enraging the Jewish world more than the Damascus Blood Libel of 1840.
Unlike the Kichinev Pogrom, that occurred a few years earlier, the Tritel did not generate extensive literary creation. However it would be a mistake to think that the Jewish tragedy of Fez was erased by the prosperity that resulted from the Protectorate.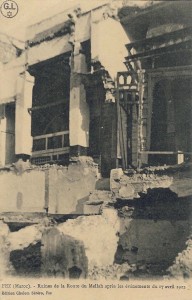 Paul Fenton, a professor at the Sorbonne, has made sure that the memory of these events be preserved, in a book that will appear this month, published by the Ben-Zvi Institute, Jerusalem. He points out that this traumatic event was a factor in the mass emigration of the Jews of Morocco after Moroccan independence.
The colonial policy of France led to a three-way conflict between the Christian West, the Muslim Maghreb and Moroccan Jewry. From the perspective of a century this painful episode may be observed objectively.
It reveals the cunning partnership between the French government and the Sutlan's court and the conduct of the Sultan, who did not hesitate to divert his people's anger against his weakest citizens – the Jewish minority. The hundredth anniversary of the Tritel will be commemorated at a two-day conference: at the Ben-Zvi Institute on April 16 and at the Dahan Center at Bar-Ilan University on the following day.
Michael Glatzer, Ben-Zvi Institute, Jerusalem