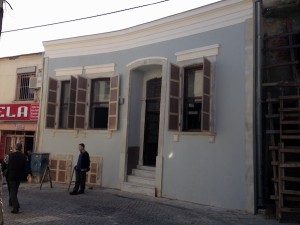 The Izmir Jewish Heritage Tourism project was formally launched as a tourism venture in Turkey this month at the Travel Turkey Izmir International Tourism Fair, which took place Dec. 4-7. The tourism project is being carried out by the GPC travel company, which is specialized in the field of Culture tourism, via an agreement with the Izmir Jewish Community Foundation and the Kiriaty Foundation.
At the Fair, GPC Travel mounted a stand that highlighted the Jewish Heritage Tourism project. Brochures and tour programs were distributed to the visitors to the stand, and the project was presented to  professional domestic and foreign tourism agents and hotel officials with the aim of including synagogue visits to their tourism packages.
There was also an official launch reception, where Izmir-Konak Mayor Sema Pekdaş,  Izmir Jewish Community Foundation President Samuel Azar, and Izmir Project site manager Nesim Bencoya took part.
The Izmir Project is an international initiative led by the Kiriaty Foundation to save Izmir's unique complex of synagogues and "create a living cultural monument to the rich Jewish heritage of the city." It cooperates with the local municipality and the Jewish community to restore and reconstruct seven of Izmir's synagogues and historic community buildings, and construct a museum with a cultural center.  Four contiguous synagogues within Izmir's historic bazaar have been designated as the core of the restoration project: Hevra, Algazi, Signora-Giveret and the ruins of the Foresteros synagogue. Combined with two other adjacent synagogues: Etz Chaim and Shalom, in addition the Bikur-Holim synagogue nearby; they form a unique complex of diverse Sephardic synagogue styles.
"Our intention is to establish in this unique place a Jewish Museum of Izmir that will turn the old Jewish district of Izmir and its historical, cultural, educational attractions into a vibrant touristic site, similar to the Jewish quarters of Prague and Krakow," Bencoya says.  "We believe that development of Jewish Heritage Tourism in Izmir will be a source for finance and prestige for the future Jewish Museum of Izmir."
The tourism project's web site went online earlier this year, with details on Jewish heritage in Izmir in general, including tourist information and itineraries.
A brochure including brief histories of the synagogues has also been designed and printed, in English and Turkish.
In addition, with the support from Kiriaty Foundation and in cooperation with the GPC Travel Company, the Izmir Chamber of Tourist Guides and the Izmir Jewish Community Foundation,  a 2-day training session for Jewish tour guides in Izmir was held in March 2014. The program was prepared by the professional staff of the Yad Ben Zvi Institute in Jerusalem. A specially printed ''Jewish Heritage Tourism Guide Manual'' and a Certificate by Yad Ben Zvi were given to the participants.
"Since we believe that the role of the qualified tourist guides will be crucial in moving the Project forward through their knowledge and skills, we concentrated on the idea of creating an educational process for them," Bencoya says.