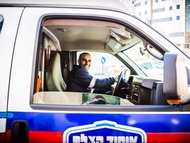 United Hatzalah/United Rescue is training neighborhood first-responder volunteers in cities across North and South America, Europe and India.
When the ambulance on which he was volunteering in the 1980's got stuck in Jerusalem traffic and failed to reach a choking child in time, then-teenager Eli Beer envisioned squads of neighborhood-based volunteers who could reach patients quickly by foot or cycle and begin first aid until the ambulance arrives.
In 1989, he equipped 15 volunteer first-responders in his Jerusalem neighborhood with police scanners and thus planted the seed for a nationwide volunteer emergency medical services organization, United Hatzalah, formally founded in 2006.
UH's 3,000 volunteers have treated 1.6 million people in Israel as of 2016. The organization also sends humanitarian-aid teams to disaster areas around the world.
Over the past few years, large cities in Brazil, Panama, Argentina, India, Lithuania, New Jersey and Michigan have asked the award-winning Israeli NGO to help them set up similar systems in order to get aid to victims of accidents and illness within three minutes.
Beer was even invited to represent United Hatzalah and its international arm, United Rescue (hatzalah means "rescue" in Hebrew), at a World Government Summit held in Dubai in February 2016.
This article has been republished with permission by www.israel21c.org. Click here to continue reading.