Researchers' night, a night of science for the general public, occurs once a year in the Fall, at the time of the Equinox.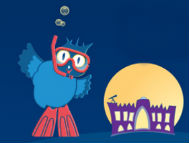 A tradition that began in 2006, Researchers' Night is once again enthralling and enriching the minds of Israel's "regular folk," with research and innovation from every direction. Researchers' Night is an international event which takes place eatch year all over europe, in association with the Europian Union, this time being the eighth year in a row. At the same time every year, events and lectures are held all over the country in many different venues to share the love of science with everyone – often in the most nontraditional of venues.
This year, on September 18, free events will be held throughout the day, and into the night. Israel's National Museum of Science says this year's theme is to be sea science, so ship enthusiasts are in for a treat!
The Weizmann Institute of Science is well loved for its popular "Science Cafe" gatherings that take place on there campus and in the surrounding cities of Israel, in which scientists will speak about their field of interest with the patrons of the café in a warm environment over a cup of coffee. In recent years, Weizmann Institute scientists have also began going out to bars and cafés in the Tel Aviv area, spreading the word about the latest scientific innovations and the relevance of science to everyday life, as well as answering questions from one and all over a cold glass of beer (this usually takes place in April).
We encourage everyone looking for a fun and informative evening to go out and enjoy some sea science. You'll learn something new, and who knows, it just might float your boat! Events are taking place all over the country at scientific institutions and museums, including the Weizmann Institute, Israel's National Museum of Science, the Technion, and more. Check local listings to see what is open near you.