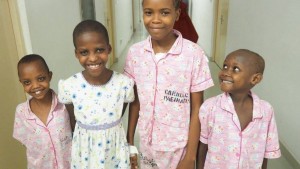 In their most recent trip to Tanzania, volunteers with Israel's Save a Child's Heart treat dozens of kids and enjoy some delightful reunions.
Shadia Jirani, an 18-month-old Tanzanian girl, was born with a giant hole in her heart. Without surgery her chances of survival were grim.
Shadia was the first child wheeled into the operating room at Jakaya Kikwete Cardiac Institute (JKCI) in Dar es Salaam, Tanzania, during a weeklong medical mission in March undertaken by a team of cardiologists, nurses and volunteers from the nonprofit Save a Child's Heart (SACH) at Wolfson Medical Center in Holon, Israel.
"It would seem the SACH team arrived just in time," remarked Randi Weiss, SACH Young Leadership director in her daily blog about the mission, which was sponsored by Save a Child's Heart Canada.
Shadia is doing well after a three-hour operation by SACH lead surgeon Dr. Lior Sasson and Dr. Godwin Godfrey, Tanzania's first pediatric cardiac surgeon, who trained with SACH specialists for six years in Israel with the support of the Australian Pratt Foundation. Assisting them was Dr. Yayehyirad Mekonnen, currently training in Israel through SACH to become Ethiopia's first pediatric cardiac surgeon.
While Shadia's surgery was underway on March 6, Dr. Akiva Tamir and Dr. Sagi Assa were leading a team performing cardiac catheterizations one floor below.
The SACH team worked with Godwin and pediatric cardiologist Dr. Naiz Majani, who was also trained by SACH in Israel. Though these Tanzanian physicians work independently with their team in JKCI, SACH sends volunteer medical teams three times a year to assist with the large number of children waiting for lifesaving treatments. However, it was the first time they were doing catheterizations.
This article has been republished with permission by www.israel21c.org. Click here to continue reading.