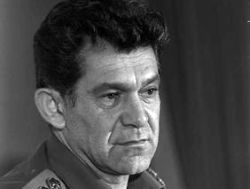 David "Dado" Elazar was the ninth Chief of Staff of the Israel Defense Forces, serving in that capacity from 1972 to 1974. He was forced to resign in the aftermath of the Yom Kippur War.
David Elazar (Dado) was one of the generation of fighters in the pre-State Palmach who went on to become a general in the IDF. During the Six Day War he was head of the Northern Command which captured the Golan Heights – leading to the cease-fire with Syria and the end of the war. He was appointed Chief of Staff in 1972.
At the beginning of the Yom Kippur War, Elazar recommended complete mobilization of the IDF, but the government opted for a call-up of the reserves, coupled with an appeal for international pressure against the Arab combatants. In 1974, in the aftermath of the war, the Agranat Commission recommended that he be dismissed as Chief of Staff, while absolving Defense Minister Moshe Dayan and Prime Minister Golda Meir of responsibility. He resigned his position.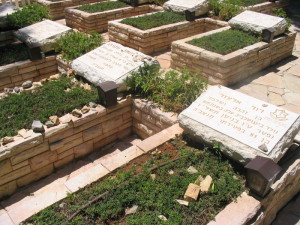 Many argued that the government, particularly Prime Minister Golda Meir and Defense Minister Moshe Dayan, should also be held accountable, and by and large the Israeli public agreed with this point. The result was that strong public pressure eventually forced Meir's and Dayan's resignation, despite the fact that they were not officially implicated in the Agranat Commission's report. Many also cite the fact that Elazar was able to maintain his cool during the difficult early days of the war as one of the leading factors that eventually led to Israel's comeback.
On 15 April 1976, Elazar died of a heart attack while swimming. Many believed that he died of a broken heart after the Agranat Commission blamed him for the military fiasco. He is buried on Mount Herzl, Jerusalem.