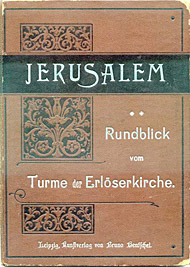 A journey to the past, acompanied by a sequence of rear photos taken from the height of the "Church of the Redeemer" in Jerusalem on its opening day.
In 1898 Eretz Israel was under Ottoman rule. The Ottoman regime enjoyed good relations with Kaiser Wilhelm II of Germany and so allowed the Kaiser to represent Christian interests in Eretz Israel. In that year, adjacent to the Church of the Holy Sepulcher, construction was completed of the Church of the Redeemer in the Old City, which was funded by the Germans. The Kaiser himself inaugurated the church in a visit accompanied with great pomp and circumstance. It was at this time that Theodor Herzl met with the Kaiser when he visited Jerusalem and Jaffa in an attempt to persuade him to exert his influence on the Ottoman regime to allow Jewish settlement in Eretz Israel.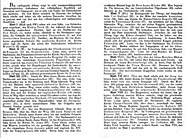 In the same year Bruno Henschel, an Austrian photographer, was given the opportunity of climbing the bell tower of the new Church of the Redeemer from where he photographed the city panoramically. In his explanation that accompanies this series of photographs, Henschel writes: "…The bell tower of the Church of the Redeemer is in the center of the Holy City and is the tallest of all the buildings of the city, and facilitates, in eight photographs, a comprehensive view of the entire city and its environs".
During that period Henschel printed the series in the form of a loose-leaf guidebook for tourists, several copies of which are still in the possession of photograph collectors.
The explanations accompanying the plates are Bruno Henschel's, and in brackets I have added the currently accepted names.