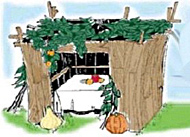 Sukkot is a Biblical pilgrimage festival that occurs on the 15th day of the month of Tishri. It is one of the three major holidays when historically the Jewish populace traveled to the Temple in Jerusalem.
The Festival of Sukkot begins on Tishri 15, the fifth day after Yom-Kippur. It is quite a drastic transition, from one of the most solemn holidays in our year to one of the most joyous.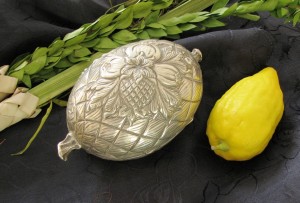 This festival is sometimes referred to as Zeman Simkhateinu, the Season of our Rejoicing. Sukkot lasts for seven days. The two days following the festival are separate holidays, Shemini Atzeret and Simkhat Torah, but are commonly thought of as part of Sukkot.
The word "Sukkot" means "booths," and refers to the temporary dwellings that we are commanded to live in during this holiday. The name of the holiday is frequently translated "The Feast of Tabernacles". Like Passover and Shavu'ot, Sukkot has a dual significance: historical and agricultural. The holiday commemorates the forty-year period during which the children of Israel were wandering in the desert, living in temporary shelters. Sukkot is also a harvest festival, and is sometimes referred to as Chag Ha-Asif, the Festival of Ingathering.
The festival of Sukkot is instituted in Leviticus 23:
---
"And the LORD spake unto Moses, saying,
Speak unto the children of Israel, saying, The fifteenth day of this seventh month shall be the feast of tabernacles for seven days unto the LORD.
On the first day shall be an holy convocation: ye shall do no servile work therein.
Seven days ye shall offer an offering made by fire unto the LORD: on the eighth day shall be an holy convocation unto you; and ye shall offer an offering made by fire unto the LORD: it is a solemn assembly; and ye shall do no servile work therein. "
---
No work is permitted on the first and second days of the holiday. Work is permitted on the remaining days. These intermediate days on which work is permitted are referred to as Chol Ha-Mo'ed, as are the intermediate days of Passover.
In honor of the holiday's historical significance, we are commanded to dwell in temporary shelters, as our ancestors did in the wilderness. The commandment to "dwell" in a sukkah can be fulfilled by simply eating all of one's meals there; however, if the weather, climate, and one's health permit, one should live in the sukkah as much as possible, including sleeping in it.
It is common practice, and highly commendable, to decorate the sukkah. Building and decorating a sukkah is a fun, family project, much like decorating the Christmas tree is for Christians.
From Jewish Virtual Gallery, Wikipedia