Tourism Minister, was assassinated outside his room at Jerusalem hotel by Palestinian terrorists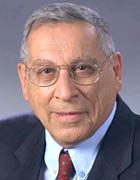 Tourism Minister Rechavam Ze'evy was assassinated by two shots to the head outside his room at the Jerusalem Hyatt Hotel on October 17, 2001. The Popular Front for the Liberation of Palestine claimed responsibility for the attack.
Rechavam Ze'evy was born in Jerusalem in 1926. A fifth generation sabra, he was a veteran of the Palmah's Yiftah Brigade, and was one of its legendary scouts, known for a remarkable knowledge of every corner of the country.
After graduating from the Command and General Staff College of the US Army, Ze'evy served as a career officer in the IDF, reaching the rank of Major-General. He won recognition as one of the main developers of anti-infiltration tactics in the Jordan Valley – tactics largely responsible for having turned Israel's border with Jordan into the quietest frontier. After the Six-Day War, while fighting Arab terror in the West Bank and Gaza Strip, Ze'evy sought to ensure calm in the territories by granting the local government more authority. He also frequently visited the Beduin villages whose sons served with the IDF and sought to improve their conditions.
After retiring from army service, Rechavam Ze'evy served as Advisor to Prime Minister Rabin on Anti-Terror Matters and Intelligence from 1974-1977, and as Chairman of the Board of the Eretz-Israel Museum in Tel Aviv from 1981-1991.
He published many articles in the local press, and was the editor of 65 books published by the Ministry of Defense and the Eretz-Israel Museum, Tel Aviv.
Ze'evy was elected to the Knesset in 1988 as Chairman of the Moledet faction, advocating the voluntary transfer of the Palestinian population in the territories, to be implemented after agreement was reached with the Arab states. He served as a member of the Knesset House, Foreign Affairs and Defense, Education and Culture, and State Control Committees.
From February 1991 until Janaury 1992, he served as Minister without Portfolio.
In May 1999, Rechavam Ze'evy was elected to the Knesset as Chairman of the National Union – Yisrael Beiteinu Party. He was appointed Minister of Tourism in March 2001. On October 15, 2001, he submitted his resignation, which was to enter into effect on October 17, after 48 hours, at 1:30 P.M.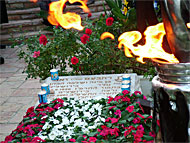 Early that morning, on returning to his room at the Jerusalem Hyatt Hotel, Rechavam Ze'evy was murdered by Palestinian terrorists who shot him in the head. He was pronounced dead at Hadassah Hospital three hours later.
Rechavam Ze'evy was laid to rest in a state funeral with full military honors at Jerusalem's Mount Herzl Military Cemetery. He is survived by his wife Yael and five children, Yiftah-Palmah, Binyamin, Masada, Tzahala and Arava.
---
Related Articles:
March 15, 2006 – Arresting of Ahmed Saadat who is responsible for gunning down Israeli cabinet minister Rehavam Zeevi
May 4, 2005 – Shabak Chief Avi Dichter: 'Greatest Failure Was Not Preventing Palestinian Assassination Of Cabinet Minister Rechavam Zeevi'
---