Israeli general, former Chief of Staff of the Israeli Defense Forces and a politician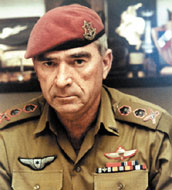 Rafael "Raful" Eitan was an Israeli general, former Chief of Staff of the Israeli Defense Forces and later a politician, a Knesset member and government minister. Born in Afula during the Mandate era, Eitan was raised in Moshav Tel Adashim, where he spent most of his life.
Beginning as a teenage Palmachnik, he served in the Israel Defense Forces (IDF) since its establishment in 1948. A graduate of the National Defense College, he served as a paratrooper officer in 1956 Sinai Campaign and the 1967 Six-Day War, and was a divisional commander on the Golan Heights in the 1973 Yom-Kippur War. He was wounded four times in battle.
Rafael Eitan was IDF Chief of Staff from 1978-83. As Chief of Staff, he initiated a program to enable underprivileged youth to enlist in the IDF and integrate into Israeli society. Eitan's retirement from the army in 1983 was overshadowed by an investigation into the massacre of Palestinian refugees by an Israeli-allied Christian militia during the Lebanon War. The Kahan Commission found that Eitan should have anticipated the danger and opposed the decision to send the Christians into the camp.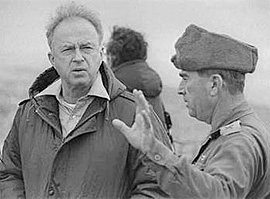 After leaving the army, he formed the Tzomet Party and was known for his opposition to transferring land to the Palestinians in peace deals. He served as agriculture and environment minister in the 1990's.
Elected to the 11th Knesset in 1984, he was a member of the Knesset State Control and the Foreign Affairs and Defense Committees. From 1988-90, he continued to serve on the Foreign Affairs and Defense Committee and was a member of the Knesset House Committee. From 1990-1991 he served as Minister of Agriculture.
In opposition as leader of the Tzomet Party since 1992, he has served as chairman of the Anti-Drug Abuse Committee and is also chairman of the Israel-Russian Federation Parliamentary Friendship League.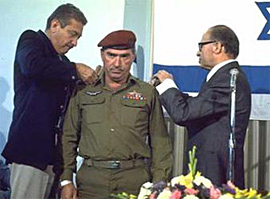 In June 1996, he was appointed Minister of Agriculture and the Environment, and Deputy Prime Minister.In 1997, Eitan surprised many Israelis when he announced that his mother was a descendant of the Russian czar's bodyguards, raising the possibility he was not Jewish.
Eitan left politics to work in his olive grove and build rocking horses at a wood shop in his birthplace of Tel Adashim, a moshav, or communal farm, in northern Israel. He also obtained a fishing license and oversaw the port expansion project in Ashdod.
A career officer, enthusiastic carpenter, and lifelong farmer, Eitan published an autobiography, A Soldier's Story: The Life and Times of an Israeli War Hero. He drowned on November 23, 2004. Eitan was survived by his wife and three children.