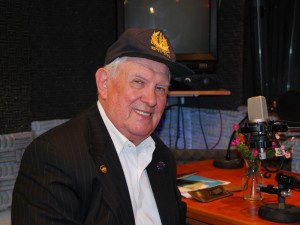 IsraCast presents an interview with Gen. (Ret.) Aryeh Leib "Eugene" Lebovitz, a Holocaust survivor, retired business executive, and Israeli pioneer now residing in Aventura, Florida. Mr. Lebovitz took time from his recent visit to Israel to visit the IsraCast studios and talk about his efforts on behalf of Israel.

Eugene Lebovitz was born 5 Sept 1928, in the town of Uzhorod, Czechoslovakia, into an extremely large family – with 10 children, parents and grandparents, and 35 immediate cousins. Soon after the invasion of Poland and the outbreak of World War II, when Aryeh was 10 years old, the Hungarian Nazis seized his little town, and 12,000 Jewish families were deported, most of whom were then slaughtered by machine gun fire. As the Nazis advanced, and villages were destroyed, and inhabitants deported, huge numbers began flowing into Uzhorod, making it the first Hungarian "ghetto."
In early 1944, Eugene was tasked to be the runner for the ghetto, in order to scavenge outside the ghetto walls for badly needed food. However, a few months later the area was transported to what was described as a slave labor farm.
People were crammed into the infamous cattle cars, and shipped off to Birkenau-Auschwitz. Upon exiting the train, he was separated from his mother and sisters, whom he never saw again, and was able to stay, at least temporarily, with his father and brother – but eventually his father was also murdered. Eugene and his brother managed to stay alive by working in Jaworzno, a munitions plant operated alongside a Seimens electrical power station.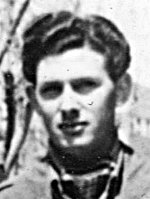 As the Soviet Army advanced on Poland at the end of 1944, the Nazis emptied out the work camp, and forced the inhabitants to embark upon the infamous Death March in the middle of winter, January 1945. On the second night of the march, Eugene managed to escape for a time, but was later recaptured by his SS sergeant whom he had been working for. He was forced back into a slave labor pool, and then suddenly the sergeant began unloading his revolver on the bewildered prisoners – killing 40 who were unable to run. Eugene survived that melee, and was joined up with another group of prisoners.
The following day, amidst the freezing cold and snowstorms, the prisoners were loaded into another cattle car and taken out to a killing field in the forest. Suddenly machine gun fire erupted from many positions, and Eugene managed to take cover and feign death, with multiple corpses on top of him. And in the morning he was able to dig himself out from underneath the heap of dead people, and make his way into the local town.
The townspeople, however, turned him over to the Gestapo, who forced him on another death march. Fortunately, he and another group were able to escape, and evade detection until they reached the Czech town of Landshut in March, 1945. Shortly thereafter, the town was taken by the Russians.
While in the Russian military headquarters, Eugene identified a Hungarian Army Major, and began screaming at him in Hungarian. A Russian Captain saw Eugene's value, and employed him as a translator. This Major revealed under interrogation important intel regarding the location and disposition of two Germans and one Italian division, including a complex system of tunnels. The resulting operation was highly successful, earning Eugene well-deserved hero accolades, as well as a Soviet military ID, which was stamped by the NKVD, a branch of the KGB. This documentation facilitated Eugene's easy transportation back to Prague.
Once back in Prague, Eugene ran into a fellow from his hometown, and heard the wonderful news that his two brothers were still alive, and that they were trying to emigrate to Israel. A few months later, they were able to re-connect with their sister, who had been liberated from the Bergen-Belsen concentration camp, and sent to Sweden to convalesce.
Shortly thereafter, Eugene and his siblings got involved with the Jewish Underground involved with smuggling Jewish refugees from post-war Europe through the British Mandate blockade into then-Palestine. Using his KGB ID card, he was able to move 36 war orphans from Prague to Paris, and then on to Brussels, and Antwerp, and ultimately to the Land of Israel.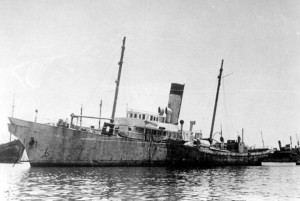 That vessel, the "Chayal HaIvri" was carrying 742 Holocaust survivors. When the passengers disembarked, the British detained them in Atlit, a displaced persons camp that served as an all-too-uncomfortable reminder of a prison camp. Eventually, Eugene was able to get out along with the same youngsters he had helped bring from Prague to Belgium. That group was relocated through the efforts of the Jewish Agency to Kibbutz Nir David.
Eugene finished High School there, and then went to Tel Aviv for work, and to begin college at an institution known as 'Mikveh Yisrael'. However, he was harassed by the British, who kept on arresting him, prompting him to leave Tel Aviv and head for Haifa where he started his real career as an undercover agent for the Haganah, the pre-State Israel Defense Forces.
His first duty was to work for Shell Oil as the Chief Security Officer, supervising the guarding of the Arab laborers by day. While at night, he oversaw recon to defend the Jewish enclaves in Haifa from Arab infiltrators who were being dispatched by the Mufti of Jerusalem. Within a week after his taking command, his unit successfully interdicted the infiltrators, resulting in a noticeable pacification of the region.
With the formal outbreak of hostilities in 1948, Eugene commanded 5 units, and successfully led the conquest of the entire city of Haifa, which was accomplished in one day. During that operation, he took a bullet in his leg, and was sent to hospital for 5 days. Afterwards, his superiors recommended him for Officer's School in Herzliyah, which he attended in June-July 1948.
Upon graduation, Eugene, now Lt Lebovitz, joined his unit, Chativat Carmeli, in the Galilee region of northern Israel. His primary duties by day were to train new conscripts to defend the Galilee; and by night, his job was to assemble a new commando unit for striking at Arab military positions in the town of Jenin.
A few months later in Nov 1948, he was sent back to Haifa in order to prepare training facilities to absorb new immigrants (who were all Holocaust survivors) arriving from Czechoslovakia, and get them combat-ready.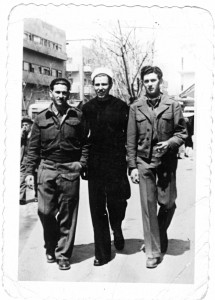 For the next seven years, Eugene was on Active Duty, planning and executing missions to secure the fledgling Jewish State. In reflecting back on those years, he writes, "It is difficult even today to foresee what can happen tomorrow if we are not always on alert." Throughout his life, Commander Lebovitz has remained active in Israeli national security. Upon leaving active service in 1952, he was attached to a reserve unit involved in counter-terrorism, and was recalled to active service during the 1956 Sinai Campaign, and again during the 1967 Six Day War. During the 1973 Yom Kippur War, he was in charge of special fundraising projects at the behest of his old friend from Officer's School, Gen Ariel Sharon.
In 1951, he traveled to Chicago to visit his sister, Regina, whom he had not seen since April 1944. And on that fateful visit, he met his future bride, Natalie Greenberg. As an active, athletic young man, and a skilled soccer player, he was recruited by a semi-professional team, HaKoach (The Chicago Force). One of his teammates had a girlfriend who invited Natalie to attend a game, which is how the two met. They married on October 18, 1953, and had two girls, Linda Tsiporah, and Michelle Miriam, each of whom married, and gave them three grandchildren each.
Eugene, Natalie, and the girls lived in Chicago, till 1960, when they moved to San Juan, Puerto Rico and opened up a shoe salon. During a business trip to Italy in 1965, in which the whole family traveled, the Lebovitz's made a detour to Haifa, Israel in order to visit Eugene's brother, Eliezer, who had yet to meet Natalie and the girls.
This set in motion a series of events culminating with Eugene's starting up his own import company, Alfa Romero Shoes. He stayed in business until 1996, when he retired at the age of 68.
In his retirement years, Gen. Lebovitz has remained active in quality of life projects for Israeli service members, with the group Agudat L'ma'an HaChayal. This organization is analogous to the American USO. But in addition to building sports and recreational centers, it also is focused on matters of the spirit, donating synagogues, Torah scrolls, and other elements of a religious nature.