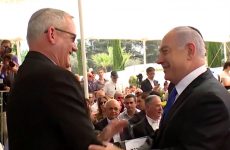 Neither Benny Gantz nor Bibi Netanyahu shows any sign of backing down. Both declare victory in the September 17 election. When the final tally is in, Gantz is expected to wind up with 33 seats, while Netanyahu will get 31; but this is a far cry from the 61-seat majority in the 120-member Knesset. Therefore, each is demanding the post of Prime Minister. Everyone agrees that this second dead-heat within five months dictates that the two bigger parties should join forces in a "National Unity Government," based on rotating the pivotal post of PM. Moreover, both sides have declared that they favor such a move. The question is, who will get the job first?
The procedure is for state President Reuven Rivlin to meet separately with each of the parties who won Knesset seats. However, Netanyahu jumped the gun and met immediately with all the right-wing and ultra-orthodox parties, wrapping up an unprecedented accord that they will form a "bloc" that will recommend Bibi to the President. In short, Netanyahu pulled a fast one. It remains to be seen how President Rivlin will react to this irregular step by Netanyahu that impinges on the President's prerogative.
At his first meeting with his new Knesset caucus, Gantz declared, "We are ready to form a national unity government with Likud under my leadership. But one does not come to such a negotiation after already forming a political bloc of his own." Moshe Yaalon, also of Blue & White, pulls no punches stating, "I call on Likud and right-wing Knesset members to part company with Netanyahu!"
The plot thickens – Avigdor Liberman of the Russian immigrants' party holds the balance of power. His eight seats will give either the Gantz or Netanyahu blocs the magic majority required to form a new government. Liberman is trying to knock their heads together, but he has one demand – that the ultra-orthodox parties that support Netanyahu must not be part of the national unity government.
The idea is that Gantz and Netanyahu a both at the center-right of the Israeli political spectrum. Both insist on a no-nonsense approach to the Iranian threat and oppose territorial concessions to the Palestinians that will jeopardize Israel's existence. So, there is a reasonable basis for such a unity government. This leaves the highest hurdle of all – who will become Prime Minister first in the new government? In Israel, this is known as the question of "rotation."
The official term of a Knesset runs for five years. In a similar situation in the past, Shimon Peres of Labor and Yitzhak Rabin of Likud were each allocated two years as Prime Minister. It is safe to assume that after President Rivlin meets separately with the different parties, he will call on both Netanyahu and Gantz to form a national unity cabinet. But this is the easy part. Both Gantz and Netanyahu are sticking to their guns about who goes first.
On this score, Netanyahu has a problem. On October 2, Bibi is to begin a legal process involving charges of fraud and breach of trust that could lead to his indictment and a court case which could drag on for years. On a side note, when former PM Ehud Olmert faced similar circumstances, Opposition leader Bibi Netanyahu declared that there was no way a PM could fulfill his duties while simultaneously fighting a serious court case. However, Bibi is adamant that he will not give up his job as Prime Minister, charging that Gantz is unprepared to take the helm and totally inexperienced in international politics. But the catch is that Netanyahu himself was far less experienced when he became Prime Minister, bearing in mind that Gantz is a former IDF Chief of Staff.
IsraCast proposal: What if Gantz did become Prime Minister. There are no glaring differences between his Blue & White party and the Likud when it comes to economic and domestic policy (other than Netanyahu pandering to the ultra-orthodox). When it comes to defense issues, Gantz and his two sidekicks, Gabi Ashkenazi and Moshe Yaalon, are also former IDF Chiefs of Staff. So that leaves, primarily, the Palestinian issue.
If it ever does come to a possible peace plan involving Israeli withdrawals or more annexation of Palestinian territory, this could be put to a national referendum, and the Israeli people would have the final say. If a new coalition cannot be hammered out by either Gantz or Netanyahu, or a combination of the two, Israel will face the alarming prospect of another general election, the third in a year! On the other hand, maybe Bibi and Gantz should agree to toss the coin.