David Ben Gurion: 'Any 18 year-old Yeshiva Student Who Breaks the Law Should Be Immediately Recruited Into IDF'
'Rioting Of Religious Fanatics Exceeds All Limits & I Bear Responsibility Because I Exempted Them From IDF Service'
'Whole Question Of Yeshiva Students Army Exemption Should Be Examined'

With the founding of the modern day state of Israel in 1948, Prime Minister David Ben Gurion answered a rabbinical request that some 400 yeshiva students be exempt from compulsory military service in order to continue their religious studies because so many Jewish scholars had perished in the Holocaust. Moreover, Ben Gurion was of the view that such a measure would gain ultra-orthodox backing for the Zionist state. However in his letter to Prime Minister Eshkol on the eve of the Jewish New Year in 1963, Ben Gurion called for a reexamination of the the exemptions in light of rioting by yeshiva students and their continually rising numbers. It is interesting to note that IDF Chief of Staff Benny Gantz has also criticized the exemptions and the draft dodging by secular Israelis. Speaking to grade twelve students, who will soon be recruited into the IDF, Lt. Gen. Gantz said: 'The Israel Defense Forces is an army of the people but only one half of the people now serve'. The Chief of Staff was obviously sending a message to the politicians that they should start doing something about the problem.
This is a translation of Ben Gurion's letter to Prime Minister Levi Eshkol: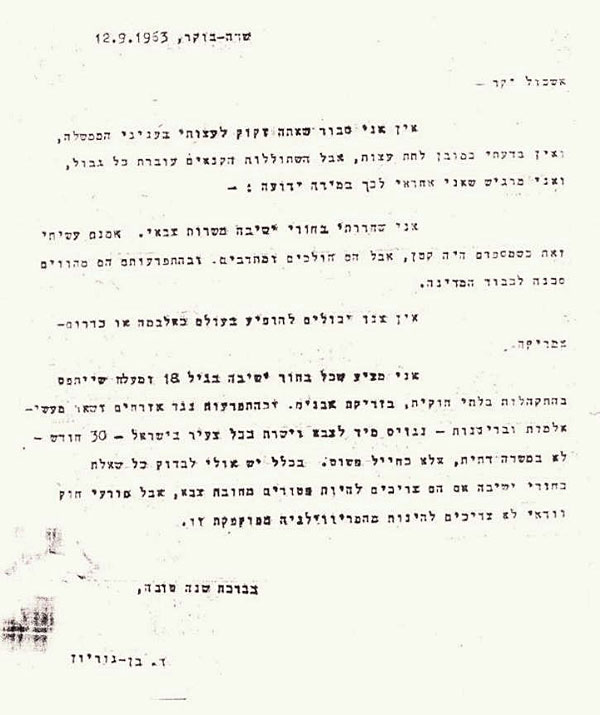 ---
12.9.1963, Sde Boker
Dear Eshkol:
I am not of the opinion that you need my advice in government matters and it is not my intention to lend such advice – however the rioting by religious fanatics exceeds all limits and I feel that I bear theresponsibility to some degree.
I exempted yeshiva students from doing military service. Indeed I did so when their numbers were small, but they have been steadily increasing and their lawlessness constitutes a danger to the state's honor.
We need not appear in the world as an Alabama or South Africa.
I propose that every yeshiva student of age 18 and over who is apprehended at an illegal gathering, throwing rocks, attacking citizens or other acts of violence and hooliganism, should be recruited immediately into the IDF to serve like any other young Israeli, for the term of thirty months, not in the Ministry of Religions, but as a plain soldier.
Generally, the entire question of yeshiva students should be examined and whether they should be exempt from military obligation; certainly law-breakers should not enjoy this dubious privilege.
With New Year's greetings,
D. Ben Gurion
---