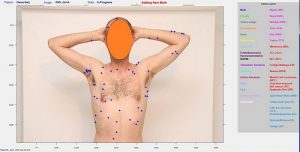 'Our enemy is moles and we know how to track them,' says Lior Wayn, founder of the company that developed DermaCompare.
Every child gets a vision and hearing check in school on a regular basis. Dr. Moshe Fried, an Israeli plastic surgeon, believes an annual skin check is necessary as well, starting in the teens. pasting This is why he agreed to be the medical consultant for Emerald Medical Applications' DermaCompare, a free smartphone app that uses image processing and predictive analytics to detect changes in marks and moles over time. The app alerts the user to changes that ought to be screened for cancer.
"The skin is the biggest organ in the body," says Fried. "The need for this comparative system came from the concept that as dermatologists and plastic surgeons we have to check everyone throughout life to look for changes in moles – the medical term is 'nevi' — for signs of skin cancer. This is quite difficult to do. We think that together with this application we can accomplish this goal."
The public company, founded in Petah Tikva in 2013, has distribution agreements in Israel, Sweden, United Kingdom, Germany, Italy, Brazil, New Zealand and Australia (in Australia, one out of seven people get skin cancer). In April, the Brazil Chamber of Commerce selected DermaCompare as the Israeli technology "most likely to succeed in Brazil."
A Spanish version of the app was recently launched for Puerto Rico, Mexico and Argentina, with more South American locations to come.
"There is no other product like ours," Emerald founder and CEO Lior Wayn tells ISRAEL21c. "Our competitors use manual diagnostics and don't use algorithms to compare images. This is a proprietary technology that we adapted from the Israeli Air Force, using aerial photos to track enemy moves. Our enemy is moles and we know how to track them."
Last year, Wayn gave a TEDx Talk in Berlin about how he decided to adapt Israeli military technology into a lifesaving medical solution after his own father was diagnosed with melanoma, the most deadly form of skin cancer.
 This article has been republished with permission by www.israel21c.org. Click here to continue reading.