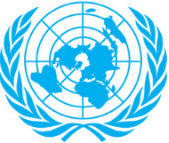 One of the biggest obstacles in the way of the Arab Israeli peace treaty remains the Palestinian refugee problem.
During the War of Independence (Nakba) around 700,000 Palestinians fled or were expelled from modern Israeli territory.
Modern historians and official Israeli history state most Palestinian refugees left in order to avoid a war instigated by neighboring Arab states. Though Israel admits to a small number of expulsions and unauthorized killings, it has maintained that the reason that most Palestinians left Israel during that time was fear of the Israelis and the notion that they would return once the man, Arab states attacking the Jews won, eradicating the Jewish presence. However, the war resulted in a very different outcome with Israel defeating the Arab League's forces and overtaking more territory then was allocated to it by the U.N. prior to the Arab attack on the fledgling state of Israel.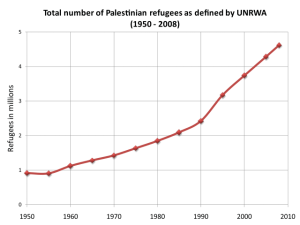 Estimates made by the UNRWA hold that the Palestinians refugees number at an estimated 5 million today, although the Untied States and Israel recognize 30,000 Palestinians as refugees.
The reason for this huge disparity is a result of differing definitions. UNRWA maintains that there were 700,000 refugees after the nakba, but they also uphold that the original refugees' decedents should be counted as well. As of today, the Palestinian refugees are the only refugees in the world to be mainly inherited.
"In May 2012, the United States Senate Appropriations Committee approved a definition of a Palestine refugee to include only those original Palestine refugees who were actually displaced between June 1946 and May 1948, resulting in an estimated number of 30,000."

               – Ari Ben Goldberg (Times of Israel Writer)

Obstruction of Peace
UNRWA's definitions of the Palestinian refugees means that each day the number increases. The amount of people that have a claim on land increases, though the amount of land, and people Israel can absorb without committing demographic suicide stays the same. The problem grows, yet no solution has proven effective.
It's in UNRWA's best interests to keep the Palestinian problem active and visual. The more drastic the problem appears, the more likely UNRWA's mandate will be reinstated. Therefore hey interest to make the problem worse instead of resolving it. However, UNRWA's mandate isn't to disperse the refugees but to wait until the problem is solved politically, UNRWA needs reform. They have a duty to push the Palestinian refugees out of the perpetual spiral they are in, and they need to help make the Palestinian people self sufficient.
"UNRWA has long been a target for critics who see it as perpetuating the refugee situation – in collaboration with Arab governments – rather than focusing on rehabilitating and resettling refugees."

               – Patrick Goodenough (CNS News Writer)