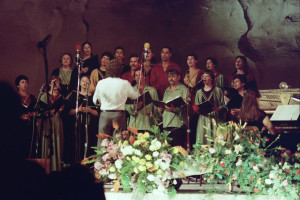 Rare recordings of Hebrew songs and melodies recorded between the years of 1972 and 1985 at live performances at the cave in Beit Guvrin
Following the Six Day War (the War of Independence), starting in 1969, performances took place every year at the enchanting cave of Kibbutz Beit-Guvrin providing evenings of song by the best of Hebrew singers and bands.  This evening was called: "An Evening of Songs for Danny", in remembrance of Danny Verdon of Kibbutz Givat Brenner, who fell in Al-Arish during the Six Day War.
Throughout the years of 1969-1985, Avi Yaffe recorded all the performances on magnetic tape using professional recording equipment, and saved these recordings for decades in his recording studio, located in Jerusalem. These recordings from the performances, starting from 1972, remained stored in the studio's archives. Well kept and of high technical quality, these recording have been transferred to digital formats by Avi Yaffe, and have yet to be edited. The recorded films from the years 1969-1971 were apparently stored separately from the rest, and have yet to be found.
Among the bands and artists that performed that evening were:

The Givatron                                       Ruchama Raz        
Lahakat Ha'magafayim                     Michal Tal
Givat Brenner Choir                           Dudu Zakai
Shlishiyat Ha'maapil                          Uzi Mairi
Chavurat Ha'ogen                              Hanan Yuval
Ha'bachurim Ha'mafikim                  Gitit Shoval        
Kolit Beit Ha'shita                              Dafna Zahavi                            Orna & Moshe Datz                           And many more………